Last Thursday, we inaugurated our new programme of talks and workshops with a full house  eager to listen to the one and only Juno Calypso at Arnolfini.
Juno's approach and understanding of photography is fresh and honest. She took us for a journey throughout her life to explain "How this shit happened". Juno was born with the Internet, since she got her first digital camera (inherited from his "PhotoDaddy") self-portrature has been her main obsession.
She shared her experience as a student of Fine Art Photography. (paraphrasing)  "It seems that everyone who studies photography has to be very serious", "I need to have fun with photography so I had to find my way around". Performance, video and installation are also a very important part of her practice "I couldn't make a series of ten images, that's not the way I work" "I think of a picture, then I go and make it". "I need to work on my own, silence is very important" . "Collaborating is very trendy at the moment but it just doesn't work for me, I need to be on my own".
"Why they are showing us the men's gaze, show us the girl for Fuck shake, she has capabilities".
She also mentioned how the idea of female beauty was growing from the very beginning, and became a very important topic of her research, questioning cliches and challenging female representation in the media. Many of her influences are not related specifically to photography but films (Stanley Kubrick or movies with Female Monsters ), TV Ads (Beauty ads from the 80s-90s) or pure ideas ("I love the idea of Sad Sex" ). It was an unconventional talk but full of good tips for those who are interested in getting their feet into the art world. "Sometimes checking your head can help you more than any portfolio review". "Being an artist is weird, you lock yourself in a room and perform in front of the camera and then we try to make a living out of that". "My work is only bought by rich white man on suits, that's a reality. That's why I also sell affordable posters, this is what really pays my bills"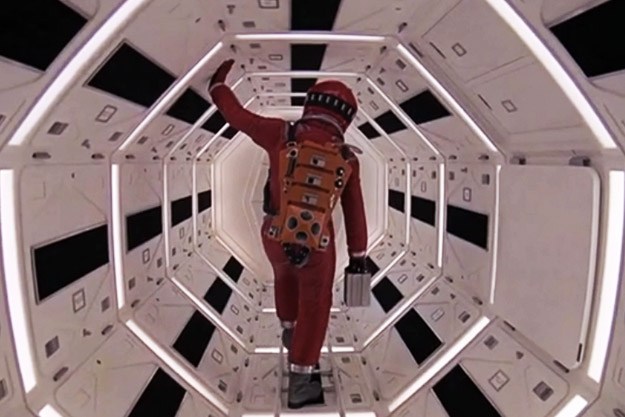 Towards the end, she talked about "Honeymoon" or the experience of being on your own in a honeymoon resort in Pennsylvania. The idea started when she watched the Honeymoon hotel promotional video  "I asked myself this shit cannot exist anymore, but it does".  Another wonderful 'behind the scenes' video was shown where we see her performing in different rooms around the hotel. Juno also shared the difficulties and limitations of being on your own making work and some of the struggles she had to make some of the shots.
Juno never disappoints (some people listen to her twice as she was also giving a talk at UWE in the morning). She is a very refreshing speaker that uses her sense of humour to give a fantastic insight into her practice engaging every single one in the audience. I guess there is nothing like listen to her 'in flesh' so my only suggestion is that if you ever have the opportunity, then go.
Thanks for coming Juno!